Fall is one of my favorite seasons. I love it all. The cooler weather, the leaves changing colors and the excitement of the upcoming holiday season.
The cooler weather always makes me want to cook hearty meals and bake stuff that makes my house smell heavenly. It doesn't take much to get me in the mood to cook. I'll take any reason to make home made treats and yummy desserts. We had an awesomely hot summer here, but I'm so ready for the cooler temps.
I just recently found out that according to
eatpasta.org
, October is National Pasta Month. We love pasta here so I decided to make a yummy Ziti goulash yesterday. And let me tell you, it turned out great and was really delish!
I also made some home made cheddar and garlic biscuits. Secretly, I maybe only made the Ziti so I would have an excuse to make yummy biscuits. They are so easy to make, and taste just like my favorite restaurant ones. I make them from scratch, so my recipe doesn't include any Bisquick mix.
The recipe I use is:
2 1/2 cups flour
2 Tbsp. baking powder
2 Tbsp. sugar
1 tsp. salt
1 Tbsp. garlic powder
1 cup butter
1 cup shredded cheddar cheese
¾ cup cold milk
First, I mix all the dry ingredients. Then, I use a tool called a
pastry or dough blender
to cut the butter into the mix. Then I add the cheese.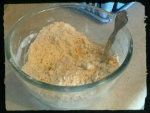 The milk comes next, and then I use my big spoon to make dough balls on my cooking sheet.
Cook at 400 for about 15 minutes. I check on them, and when they are looking almost done, I take them out and brush some melted garlic butter on top. Then its back into the oven until they are golden brown.
They taste so good. I could eat these with every meal but then I'd probably have to buy new clothes and who has money for that? My recipe makes 16 biscuits. I double bag them in freezer bags, and save whats left for the next time I get a craving for yummy garlic goodness.
Please do not judge me by my crappy photos. A photographer I am not!