I love Autumn. Its one of my favorite seasons. I love the smell of the air, the cooler weather, and that it's the start of the holidays! I use Fall as a time to do fun crafts with the children focusing on the changing season and Halloween.
Yesterday, we did a fun Halloween craft. We used paint and glue and crayons, does it get any better than that? The kids had fun and it was a simple, easy to do with a bunch of kids project. I tried to snap pictures...not an easy task with little hands wanting to help. Here's the best I could do:
First, we started with a plain piece of black construction paper. The we used white paint to make our ghost. This was a fun part for the kids. Anything that involves paint on our hands or feet is always fun! I painted their hands and had them put a hand-print on the paper. We did a similar project last year, but we used our feet as ghosts. It always gives us a case of the giggles to have paint where it doesn't belong!
While that dried, we colored! I found a cute pumpkin template on line. I saved the picture in my files, and then used my picture printing thing-a-Maiga to make wallet size pumpkins. The kids colored them and I cut them out.
Now comes the glue!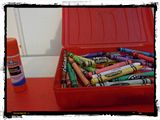 We glued the pumpkins on the paper. Anytime we get glue out, the kids have so much fun. Its always interesting to see where they'll put things when they have the chance to be creative.
Our finished product. That's a baby hand, so I had the fun of coloring and gluing his pumpkins on. It turned out cute. The children had a fun. We also talked about what a pumpkin is called when we carve it, and how we like to make silly faces on our pumpkins at home. We talked about the shape and colors of pumpkins, and looked for objects around the daycare that were the same. We also talked about trick or treating and what we want to dress up as this year. All in all, a simple, easy project that led into a lot of other fun and learning through play opportunities.